At times we all need to pause briefly, examine priorities and if need be, make any necessary adjustments. I am in the process of doing just that. Being a compulsive workaholic, I have on occasion pushed myself beyond my own limits. Just recently I did, and believe me: Total exhaustion and dehydration is a somewhat less than a pleasant experience. I do not plan to go there again.
We have long lived in an America that we all thought would go on forever. That is now debatable. We have come from a reasonably safe, predictable environment, to a world of extremes. We have lost our balance, many have lost their faith, and America has lost her way,
Like a leacherous man offering candy to a trusting child, Obama stood before this nation and offered them
Everything
, and the gullible fell under the spell of this 21st. Century Pied Piper. The mere fact that there were enough of those gullible beings to put him into the White House, speaks poorly of today's electorate. The liberal media, after years of Bush bashing, convinced the people of this nation that we must assume a new course, and these apostles of the press corps brought reality to that change of direction when they glorified a grand Messiah to the numerous liberals, who were hungry for Hope and Change. They brought not a Messiah, but a destroyer.
If freedom is one day reestablished and historians have the courage to seek out the truth, they will write of the most corrupt gathering of politicians ever to descend on our nation's Capitol. I cannot help but wonder how many people will then admit to their grandchildren that they were complicit in seating a wannabe king at the helm of the ship of state; a traitor who then set a course that would lead to destruction of all that is and ever was America.
I am certain that most have heard as Obama announced his plan for his own
private army
. Many believe that his army never materialized but it has. Early days of the Obama regime a cult emerged, some were
Boys Scouts
, some were youthful idealists, foolishly donning the orange shirts of
AmeriCorps
. Many have seen this next link, but remember that these brainwashed young doing their "
Obey chant
"are not so young anymore. They are now three years older and ready to serve their Fuhrer.
This video is an excellent portrayal of some of Obama's young followers with a dramatic comparison to the Hitler youth. It is easy to see from where the
Obama youth
training techniques emerged.
Today Obama's soldiers are coming from all over, answering the call to gather, and to mindlessly deliver the good tidings of the Marxist Messiah. I keep reading of the Occupy Wall Street movement being "Grass Roots," of it being "Spontaneous" and that the protester have "No clear message." The fact of the matter is that Occupy Wall Street is a well laid out plan to bring down the economy, not only of this nation but the world.
There are enough people who are totally confused and really don't know what is going on to create the smoke screen. Their presence give the protests a measure of respectability and a claim to a broad based support. These poor fools are simply playing into the hands of the puppet masters and they are about one percent of the crowd. The rest are modern day hippies and
hard core radicals
who know well what there purpose is. They are the ninety nine percent of the protests.
So many of America's youth fought and died in Korea and Viet Nam in the fight against the forces of communism. Today our youth are once again being sacrificed in the Middle East in the fight against terrorism, and it all seems so futile. Obama is bringing in 80,000 Muslims from Somalia and refusing to allow any sort of background checks of their background. His Marxist minions parade their fearful purpose in the streets of our cities and are being portrayed as heroes by the Leftist Media.
The protests at this point have continued unabated and growing for the last month. They have spread to other nations and any who still believe that this is a spontaneous grass roots protest should open their minds to the truth while they still can. This whole protest is an effort to incite open riots, to which the police will have to respond. They will in turn be blamed for the use of excessive force on these young "heroes." There are dark days ahead, and none in the position to do anything constructive to halt this Marxist insurgency will stand against Obama's supporters in the government. They, the heads of the Democrat/Socialist party actually condone and encourage this festering revolution.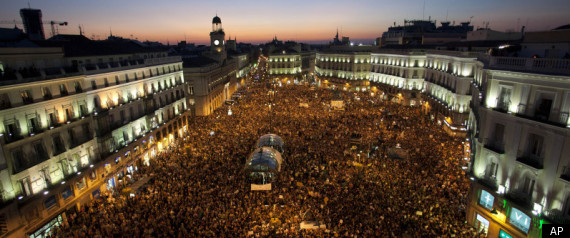 Thousands gather outside St. Paul's Cathedral in London
Now the rebellion spreads world wide:
Wall Street Protest Go Global...
Riots in Rome

.
Anti Wall Street protest
spread to Australia

.
Anti Zionism
at Los Angeles Protest.
Violence erupts on
Wall Street
.
Extensive photos on the above link..
This photo in a good indication of why I entitled this essay A CHANGE IN DIRECTION, for that change of direction is mine. I have researched most every reliable source available on the issues/dangers we face today and feel that I know the left's future plans.
A photo says so much if you study it fully. One police officer is being ruthlessly attacked by one of the media's "Heroes." The second officer undoubtedly would like to do more than simply grab the assailant's arm in defense of his fellow officer, but laws designed to protect the guilty disallow such behavior on the part of law enforcement.
It is almost certain that the man in the blue shirt was temporarily jailed...Again, the hero to his fellow Marxists, and he was almost certainly out of jail within a few hours, compliments of the communists at the local chapter of the ACLU. I do not know this man's exact role in the protests. He may be a communist, a Marxist, a paid protester, a union thug or all of the above. The simple fact of the matter is that he and his kind are taking the streets of America, thanks to progressive laws and politicians, and there is very little that can be done about it. The simple fact of the matter is that the cards are now stacked against the law abiding citizens of America.
Many fear the hard core racists at the DOJ, the progressive judges that Obama has installed on the bench, and his potential to declare martial law, and when the violent assaults such as you see above turns into bloodshed, he almost certainly will. This is his ace in the hole tactic in his effort to enslave the people of a once free nation. Violence is all part of the plan. With the advent of meaningless atrocities in our streets will come new Executive Orders, new controls ceded to the powers that be, and new restrictions on the rights of Americans. Until the conservatives of this nation apply freedoms guaranteed them in the Bill of Rights, our liberties, on a daily basis, will erode.
Peace loving Americans are counting the days until the 2012 elections. I fear those elections are just another carrot dangled before the hopeful and the deceived. Obama and his fellow criminals have broken so many laws they cannot allow an election to remove him from power. It would take years to sort out, but he and thousands of his people would be imprisoned for treason against this nation. They cannot allow this to happen, and so the communist uprising is now beginning.
He cannot risk losing an election, and for him at the moment, it looks bad. If there were indeed an election and he lost, then the military would be required to forcefully remove him from power ... therefore there can be no election. That is where my personal change of direction comes in. I shall waste no further time in the study of the opponents of Obama, for if this takeover follows the course of all other communist coups, they will all be arrested anyway.
It is every person right and responsibility to decide for him or herself whether or not I am correct, and act accordingly. I, myself, am convinced of the reality of my statements and time not spent in the search for a Republican candidate is time that can be utilized in the preparation of the safety for my loved ones.
IN SOLIDARITY
Editor's Note...Please visit my new site Fix Bayonets at http://www.fixbayonets.me/ ....And my intenet library at http://timeline3.blogspot.com/